REBUILDING
In August 2013, First Nazarene's main building including our sanctuary and children's and adult classrooms was destroyed by fire during a lightning storm. Since then, we have been working to rebuild.
We currently worship in our Family Life Center which was quickly converted into a fantastic multi-use space.
The new Educational Building is now complete, and nurseries, adult and children's Sunday school, and children's church are all being held in the new spaces. There are still furnishings that will be done in parts of the building as well as landscaping. The sanctuary will be built in the second phase.
August 9, 2015
Nurseries, children's Sunday school, and adult Sunday school classes are all held in new Educational Building for first time.
This also marks the two-year anniversary of the main building fire.
1: One of three nurseries
2: One of seven children's classrooms
July 9, 2015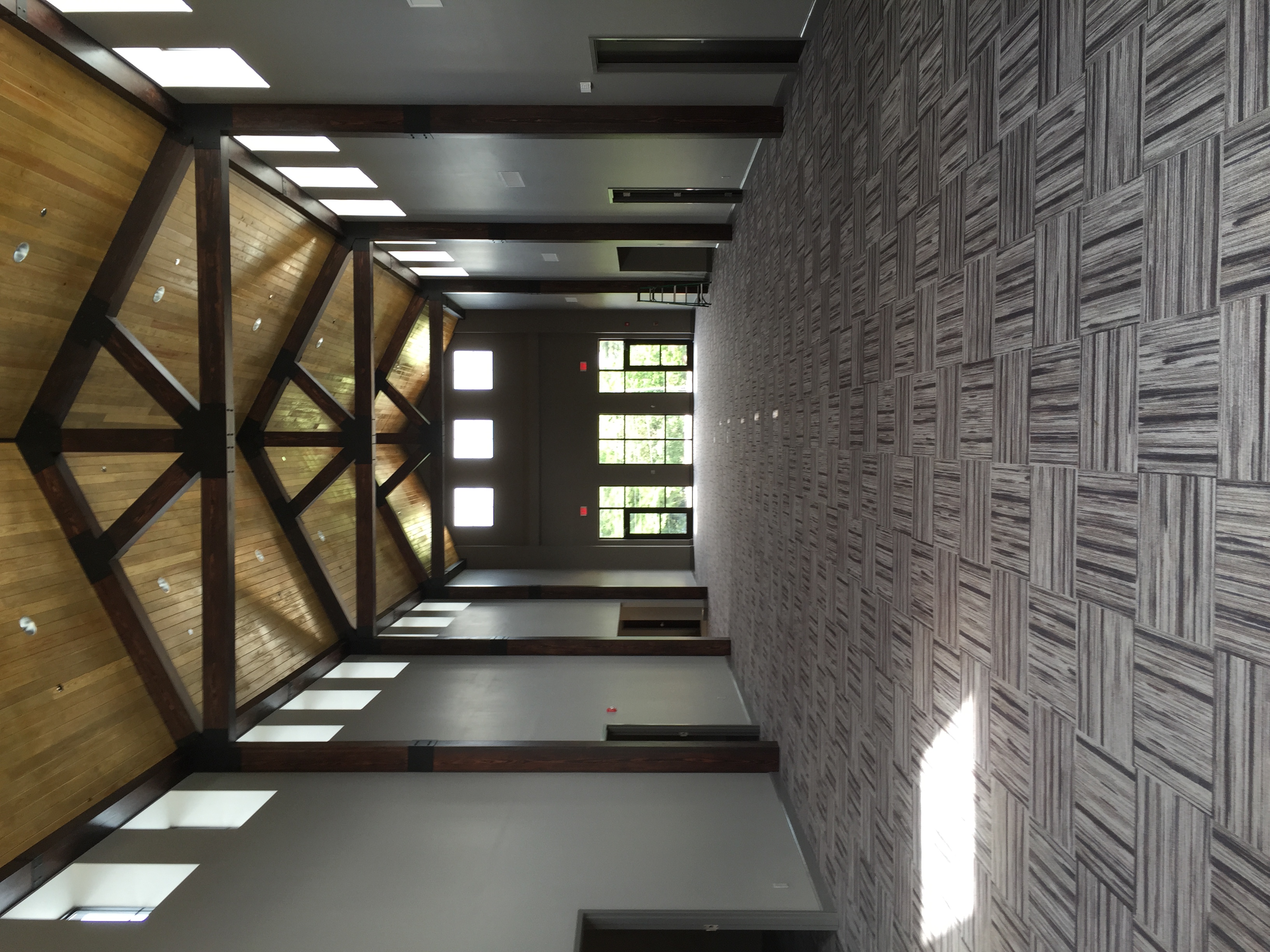 1: Common Area (looking toward front doors)
2: Kitchen
3: Fellowship Hall/ Adult Classrooms connected to kitchen
June 17, 2015
December 14, 2014
Board members gave the church a guided tour of the Phase 1 project. Currently, the estimated move-in date is May 2015.
1: Drawing of Common Area as viewed from FLC-side entrance. (IDC, Inc.)
2: Current progress of Common Area as viewed from front entrance.
3: Drawing of children's check-in area. (IDC, Inc.)
4: Drawing of children's worship center. (IDC, Inc.)
5: Drawing of Worship Center (Phase 2). (IDC, Inc.)
More than 270 people attended a special service Sunday morning to celebrate the rebirth of a Jasper church destroyed by fire nine months ago.

Members of Jasper First Church of the Nazarene were joined by several guests invited to attend a groundbreaking ceremony for the new church.

"It's been a long road," he said. "It's been a road that has made us question 'Why?' and asking God 'What is your plan now?'"
It's been nearly three weeks since a lightning strike sparked a fire that devastated the Jasper First Church of the Nazarene.

"You're initial reaction is to go into the building," Pastor Jeremy Pass said. "To unlock the door, to go in and to put it out."

That's what Pass wanted to do the night of Aug. 9, when 90 percent of the church burned. It's still hard but the congregation and Pass are focusing on the positive.

"People still, they drive by and there are still mixed emotions. You still cry, you still get angry. But you look at it and think, "That's a building.' We're alive, God's alive and He's not finished with us," Pass said.

Pass says that they have actually had more families join them after the fire and the congregation is growing.

The major fire that destroyed portions of the First Church of the Nazarene in Jasper Friday evening was caused by lightning, according to investigators.

The Alabama State Fire Marshal's Office and the Jasper Fire Department conducted eyewitness interviews, as well as inspected the aftermath of the scene.

They say lightning struck the back of the building where the main fuse boxes were located.

Firefighters spent 14 hours putting out the fire Friday night into Saturday morning.

Friday's fire didn't stop the church from carrying out their Sunday services. The family life center next door was untouched by the fire. Jasper First Nazarene has moved all their activities there for now.
"The church is not the sanctuary, the church is the people," said Pass.
Jasper First Nazarene will have to start the rebuilding process from scratch. This is expected to take at least a year.
Church members gather to prepare for service in the Family Life Center.
A fire, that may have been caused by lightning, destroyed Jasper's First Church of the Nazarene Friday night. Firefighters were dispatched at approximately 7 p.m. to the church, which was fully engulfed when firefighters arrived. Church officials posted on the Jasper First Nazarene's Facebook page late Friday that services will be held Sunday in the Family Life Center adjacent to the church.